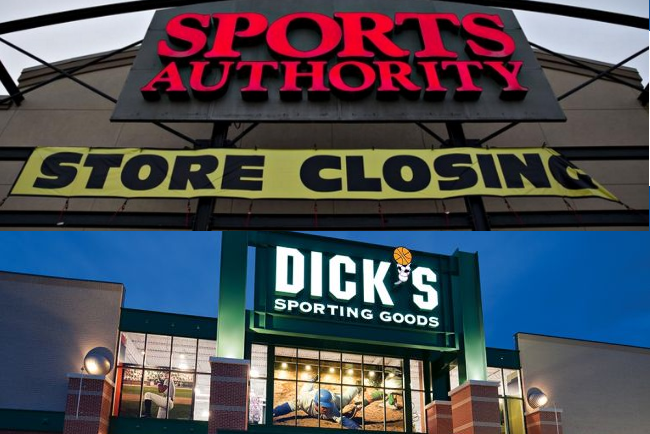 It's official – Sports Authority is no more. The Sports Authority bankruptcy is just the latest casualty in a growing list of brick-and-mortar stores that seem to be unable to compete with online retailers like Amazon and eBay these days.
This sporting goods and all of its merchandise is now the property of Dick's Sporting Goods. When the sporting goods giant failed to work out a deal with creditors and lenders during its bankruptcy proceedings, the once great sporting goods giant was forced to auction off all assets. In the end, Dick's Sporting Goods won with a bid of $15 million back in June.
Fast forward to today…
Try going to SportsAuthority.com and you're just redirected to the Dick's Sporting Goods website instead. The brick-and-mortar Sports Authority stores are dark and locked. Oh, yeah…and former Sports Authority customers have gotten an interesting email today.
If you are a former Sports Authority customer, check your email for an email with the subject line Privacy Policy Notice – Transfer of Personal Information. This email alerts former Sports Authority customers of the store closings and the transfer to Dick's Sporting Goods. And, that includes its customer database. 

So, what's this mean for you? If you're a former Sports Authority customer, any personal information that you provided to Sports Authority will continue to be governed by Sports Authority's privacy policy through September 15, 2016. After that date, your personal information will be governed by the DICK's Sporting Goods privacy policy.
But, what if you don't want Dick's Sporting Goods to keep your personal information? You can opt-out of the transfer by visiting www.SAPrivacyTransferNotice.com or by calling
1-888-836-1708. Look for the notification ID located at the bottom of your email. It should look like this:
NOTIFICATION ID: XXXXXXXXXXX
This helps identify you, and you will need this number to opt out.
So, what do you think of all of this? Did anyone else get the email? I'd love to hear your thoughts in the comments below!