The following is a guest post by Tricia. Tricia writes at Once A Month Mom, a blog that helps you fill your freezer by creating monthly menus using seasonal recipes.
As gas prices start to rise again so to the conversations about rising food costs. After all, they are inter-related. In most cases you can't receive that food without the use of fuel for production and delivery. In an economy where family incomes are already spread thin and you are doing all you can to save money by clipping coupons, following great deals sites like this one and watching every dollar; what more can possibly be done to ease your budget?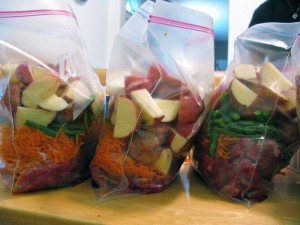 One of the things that has worked for us over the years (with or without kids) is freezer cooking, or in my case, once a month cooking. Yes, I am talking about cooking a month's worth of meals in one day. Now, half of you just clicked on to the latest deal that was just posted and I lost you. The thought of cooking all that food in one day is enough to send you running for the hills. But if you are the same person who was wondering how else you could stretch your dollar, you might want to stick around for just a few minutes longer.
Sure cooking your meals for the month all in one day is time consuming but the benefits to your family and your wallet can be really substantial. Here are just a few of the ways that you can save money by freezer cooking:
You are buying your food in bulk (for most of the month) which means that you are more likely to score discounted prices for those items.
With food in your freezer there is less need (or excuse) to go out to eat unnecessarily.
With food in your freezer there is less need to run to the grocery store at the last minute for needed or missing ingredients, thus saving on the impulse buying and purchasing of items when they are not on sale.
You aren't purchasing perishable items that might go to waste if you are too busy, too tired, or have a change of plans at the last minute and don't make that meal.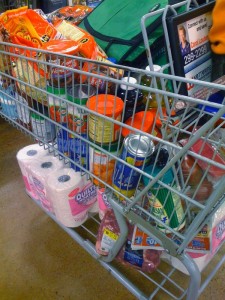 And a kicker to all this is, over at Once A Month Mom (my blog) we create FREE monthly freezer cooking menus for you each month that are based on the sales cycles and in-season produce for that month. The added savings here means:
You are buying the majority of your items when there will be coupon match-ups or stock-the-pantry opportunities.
In season produce means that you can have fruits and vegetables in your diet without compromising your budget.
Once A Month Mom helps you fill your freezer by creating monthly menus using seasonal recipes. Complete with grocery lists, step-by-step instructions, labels and much, much more. There are also several different types of menus to meet the varied demands of families. There is a Traditional menu (for the average American family), Diet (for the health conscious), Baby Food (for the starter), Whole Foods – coming May 1st (for those that stay away from processed foods but aren't intimidated by extra time in the kitchen), Gluten Free/Dairy Free – coming May 1st (for those trying to meet the needs of a challenging specialty diet), and Vegetarian – coming June 1st (for those that avoid animal products).
Like I said, there is a little something for everyone's family and everyone's budget. I would love for you to consider joining us in your journey to save more on your grocery budget. Perhaps we can save together?
Tricia is founder and author of Once A Month Mom. When she isn't using her Type A personality to create once a month cooking menus, she can be found chasing after her two toddlers who also have discovered a love for cooking at an early age.