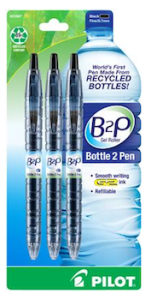 UPDATE:  It seems this coupon was emailed to individuals and was a one time use coupon.  therefore the coupon is not being honored since the one shared online is missing the coupon code.  if you received this coupon directly from Staples you can use it.  but if you found this coupon online it is not valid to use.  Sorry about that!
Use this Staples coupon to get a FREE Pilot B2P Retractable Gel Pens (3 pk) through 7/16/11.  Here are other Staples deals I have shared with you.
Thanks, Mojo Savings!