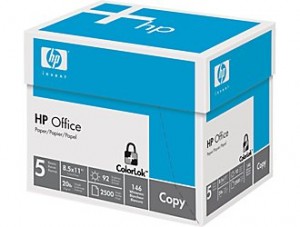 Wow, I am really wishing there was a Staples in the town I live because Staples is really having some great deals lately. I am assuming as back to school shopping season kicks on in July the deals will get even better. Anyway, this week there are quite a few things you can get for very very cheap.
Easy Rebate Deals
HP Office Paper 5 Ream/Half Case(664252) $24.99 (in store price), Buy two for $49.98 and get a $24.99 Easy rebate back (Limit 2 rebates per customer)
Staples Bright White Multipurpose Ream (651659) $7.29, buy two for $14.58 and get $5.29 Easyrebate back (Limit 2 rebates per customer)
60 Pack Staples Photo Plus 4″x6″ paper (648177) $9.99, get $8.99 Easy rebate back when you buy one (Limit 2 rebates per customer)
Dollar deals
Pentall RSVP ballpoint ballpoint pens, fine, assorted 5 pack $1 (reg. $2.49)
Sharpie Market Accent assorted highlighters 6 pack $1 (reg. $4.49)
Crayola 24 pack of crayons $1
Staples Accel 5 1/2″ x 4 1/4″ fat book 200 sheets $1 (reg. $2.49)
Swingline 8″ bent handle scissors $1 (reg. $6.99) Thanks Bargain Briana!
Deal Idea
$49.98 Buy two half cases of HP paper
$1 Crayola 24 pack of Crayons
=$50.98 subtotal
Use $15 off $50 Office Depot Coupon (Staples takes competitors coupons)
Pay $35.98 plus tax out of pocket and get $24.99 Visa prepaid Debit Card for HP paper Easy Rebate PLUS $4.99 in Staples Rewards. That's like paying $6 for ten reams of paper after coupons, rebate and Staples rewards!
Happy Savings!