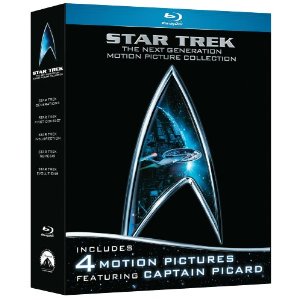 Amazon's Gold Box deal of the day is Star Trek The Next Generation Collection for $26.49 Shipped (down from $69.99)! The collections includes First Contact / Generations / Insurrection / Nemesis. If you have a Trek Fan in your family or still need to buy that Father's Day gift, this would make a great one! 
Product Description
First Contact
After an epic battle against the Borg (cybernetically-enhanced life forms), Captain Picard and the crew of the Enterprise follow the Borg Sphere back into the 21st century to prevent the Borg from contaminating Earth's timeline and preventing Earth's first contact. Picard and the crew must work together to battle the Borg Queen before she assimilates all of mankind and changes history forever. Resistance is futile.

Generations
Capt. Picard, with the help of supposedly dead Capt. Kirk, must stop a madman willing to murder on a planetary scale in order to enter a space matrix.

Insurrection
When the crew of the Enterprise learn of a Federation plot against the inhabitants of a unique planet, Capt. Picard begins an open rebellion.

Nemesis
After the Enterprise is diverted to the Romulan planet of Romulus, supposedly because they want to negotiate a truce, the Federation soon find out the Romulans are planning an attack on Earth.
Amazon Gold Box Deals tend to sell out quickly so don't wait too long if you're interested!