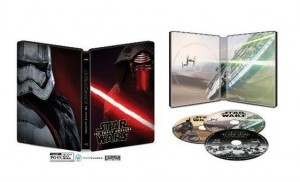 Perfect for a Star Wars fan! Best Buy has the Star Wars: The Force Awakens: SteelBook (Bluray/DVD) for only $9.99! (Reg. $24.99) Here are some additional features:
(Bonus features available on Blu-ray only)
Blueprint of a Battle: the Snow Fight-go deeper into the epic, climactic lightsaber battle between Rey and Kylo Ren.
Building BB-8-see how J.J. Abrams and team brought the newest droid to the screen, creating an instant fan favorite in the Star Wars universe.
Crafting Creatures-watch movie magic as the filmmakers bring a cast of new creatures to life.
ILM: the Visual Magic of the Force-an insider's look into the remarkable digital artistry of the movie's visual effects.
John Williams: the Seventh Symphony-the legendary composer shares personal insights of his work on Star Wars and The Force Awakens.
Plus-deleted scenes
Secrets of The Force Awakens: a Cinematic Journey-for the first time, discover the complete story behind the making of The Force Awakens, revealed through in-depth footage and exclusive interviews with the actors and filmmakers in this full-length documentary.
The Story Awakens: the Table Read-cast members, familliar and new, reflect on the memorable day they all first came together to read the movie's script.
Plus, you'll also score FREE standard shipping and if you order today it should arrive by December 20th…just in time to wrap it up and put it under the Christmas tree!