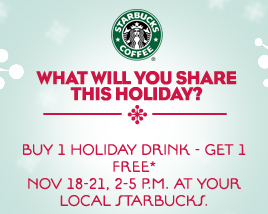 Starting today 11/18 and through 11/21 you can enjoy buy one get one free Holiday Flavor coffee drinks at Starbucks.  This offer is only available at stand alone stores and from 2PM-5PM.  It sounds like a perfect way to catch up with a friend for less!  I love Pumpkin Spice Flavor, with Eggnog a close second.  What's your favorite flavor?
You can also get offers texted to you on your cell, when you test 12DAYS to the number 29943.
Thanks Marcia and Couponing Central!