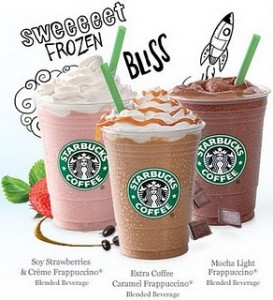 Gosh I love Frapps!  I don't necessarily love the price or calories that come with it, but oh well!  Next week, there is a solution for the price problem, so that's half the battle right?  Stop over your local Starbucks from 5/7 through 5/16 during happy hour (3-5PM) and get your frapp for half off. More info about this offer here.
Wow! now that I think about it if I have a frappucino that late I won't get to sleep until 1am.  Well, for those of you used to drinking coffee that late, this one is for you.
Thanks Clippin with Carie!