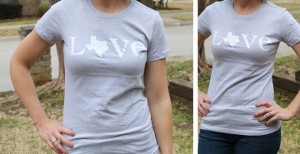 Do you love your state? Then, head over to Jane today and pick up a state "Love" t-shirt for just $16.99!
These athletic gray t-shirts are printed with the word "LOVE" on the front with the state of your choice in place of the "O". They are currently adding more states, so keep checking back if you don't see yours right away.
Also, keep in mind that the shirt the model is wearing is not the exact shirt you'll be getting. The one in the picture is a ladies fitted tee, but you'll be receiving a unisex shirt. The company found that the ladies tees they were going to originally put up were running small, so they decided to use the unisex tees, which fit true to size.