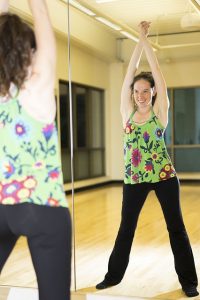 Over the last several months I have put a lot more effort into maintaining my health and fitness. It has become a very important part of my life and I absolutely love it. I also really enjoy going to the gym. It's a fun way to spend some time to yourself while also investing in yourself. That being said, a gym membership can be quite expensive!
Not to worry though, it is still doable even if you don't have the money, or don't want to put the money toward a gym membership! Stay active on a budget with these tips:
Walk. Head on out to your neighborhood sidewalks and get moving. Walking is free, my friends! And it feels great to get fresh air and get moving.

Hike. I am willing to bet that there are more hiking trails near you than you could imagine. Hiking is a great workout for your heart, legs and more.

YouTube. C'mon, I know you are staring at your computer screen anyway. Try doing a search for workout videos that you can do at home. Don't worry, there are thousands of them.

Shop around. There are some gyms out there that are pretty cheap (like $10-$20 per month). Maybe you can't afford $100 per month, but $10 is doable!

Used equipment. Let's not beat around the bush here, plenty of people want to get in shape, but quite a few of those people don't want to put in the effort it takes so you will find a lot of great deals on exercise equipment by checking Craigslist, FB marketplace, OfferUp, etc. I don't recommend buying brand new, expensive equipment before you know if you are actually going to use it well, but exercise equipment doesn't need to be brand new to work well. I use free weights that are 20+ years old and they are still wonderful!
What is your favorite way to work out on a budget?