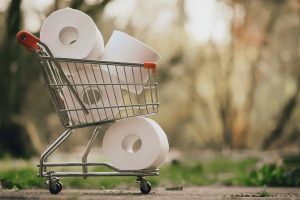 With all that we have going on this year, if we have learned anything it is that we need to be prepared. For us these days that can really mean anything, but MANY of us have found ourselves needing to stay home for an extended period of time. Whether that's to quarantine for exposure or just to keep ourselves safe in these times, let's be prepared. 
To make sure you are well prepared for being stuck at home, these stock up items for when you are stuck at home will keep you from having to go out before you are ready. 
Stock up Items for When You are Stuck at Home
2 Weeks of Food
In order to stay at home for this long, you need a minimum of 2 weeks of food supply. Of course, you should have more than that as a general rule, but if you have to stay home for 2 weeks, you need to have at least that much food to keep you going. 
Some of the foods you should concentrate on:
Dried pasta

Rice

Beans

Canned Vegetables

Canned fruits

Oatmeal

Canned milk

Water (1 gallon of water, per person, per day)
Stocked Up Medication
Check your medicine cabinet! Seriously, make sure that you have refilled all of your prescriptions. If you have the option to fill your prescription for 90 days, even better!
Hygiene and Household Items
Now is the time to stock up on toilet paper, paper towels, feminine napkins, etc. All of those things that you use throughout the month are great to make sure you are stocked up on. 
Pet Food and Supplies
If you have a pet, don't forget to make sure that you are prepared for them too! Be sure to stock up on their food and any medications that they may take on a regular basis.