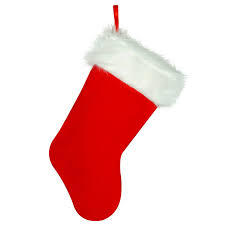 Stocking stuffers are an integral part of any holiday morning. The excitement of digging all the goodies out of the stocking is almost as good as the excitement of tackling that big pile of gifts. Almost…
Getting ideas for stocking stuffers isn't always easy, especially with lists on the Internet that tout expensive gadgets and the like as suitable stocking stuffers. This is not one of those lists. Instead, this list is meant to give you a few ideas for stocking stuffers that won't cost you a small fortune.
Free Stocking Stuffers
Sometimes, you just don't have an extra die to spend on stocking stuffers. Instead of skipping this tradition altogether and feeling bad about it, try these free stocking stuffers…
Samples

If you have a pile of unused free samples lying around, you may be able to use some of these for stocking stuffers this year. This includes items like creams, moisturizers, perfumes, coffees, teas, and makeup. Make sure that if you give free samples as stocking stuffers, the products are unopened, unexpired, and in good shape.

Heirlooms

Heirlooms may seem like odd stocking stuffers, but they'll be much appreciated stocking stuffers. If a person will receive a small heirloom anyway, you can include it in their stocking as a thoughtful gift, provided they're old enough and responsible enough to take care of it. This includes things like heirloom jewelry and small pieces of china.

Recipes

Take some time to handwrite or print some tasty recipes on index cards or pretty cardstock. Include recipes for tasty sweet confections as well as quick and hearty meals. Any cook is likely to appreciate a yummy fudge recipe or two in their stocking.

Coupon Freebies

If you're an avid couponer, you might be able to score some free stocking stuffers with your expert couponing skills. Take a look at the coupons you have available and the sales going on in your area. Couponing blogs, like this one, will also sometimes give readers heads ups on free items from coupons.

Letter

Heartfelt handwritten letters make excellent stocking stuffers. These are great for people of all ages, and a great way to show that you love and appreciate them and everything they do for you.
Cheap Stocking Stuffers
You can find cheap stocking stuffers all sorts of places. Some of my favorite places to find cheap stocking stuffers are dollar stores, but you can usually find them in almost any store.
Trial Size ItemsYou can often score some luxurious shampoos, creams, and other products for no more than a couple dollars if you buy samples. These are usually available in places like Target, Walmart, Rite Aid, and CVS, and they make great stocking stuffers. They're also great additions to homemade gift baskets.
Dollar Store Items

Cheap toys from the dollar store are often enough to delight smaller children, and cooks may enjoy kitchen gadgets. You can also get a nice variety of cute knick knacks at dollar stores as well.

DIY Stocking Stuffers

You can make stocking stuffers too. Some ideas include homemade cocoa, tea, or coffee mugs; homemade soaps and candles; mini scrapbooks; and homemade treats, like candy fudge, and cookies.

Edible Stocking Stuffers

Besides homemade treats, I also like to use things like nuts and fresh fruits as stocking stuffers. They serve a dual purpose – stocking stuffers and part of Christmas morning breakfast!
Now it's your turn to add some. What are your favorite stocking stuffers?