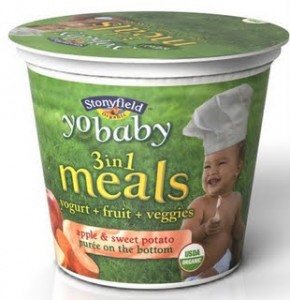 Did you know that Stonyfield has a rewards program?  Neither did I.  But since my little one started solids recently and baby yogurt is a few weeks away, I decided to start looking for coupons and offers on Yobaby products.  If you and your family consume Stonyfield products on a regular basis, then you need to check this out.
All of Stonyfield's 32 ounce quarts, 6oz Fat Free, Low Fat and Whole Milk cups, O'Soy 6 ounce cups and YoBaby Meals, Drinks and Multipacks have codes on the packaging. The codes range in value from 1-4 points each.  Collect these codes, enter them in your Stonyfield Rewards Account and redeem them for free stuff.  Of course all of the items in the Rewards catalog are eco-friendly.  It should be easy to collect 20 points to redeem for a Stonyfield Probiotic Multipack.  With 25 points you can redeem for a free Yobaby yogurt Multipack or free Bear Naked granola product.
I know there are a lot of other rewards programs by companies out there.  It would be neat to compile a list.  If you know of any other program that rewards customer loyalty make sure to share in the comments section to get a list going.