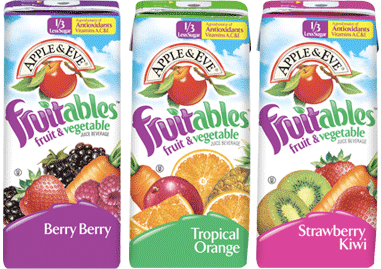 I was so excited yesterday when I found out about the Apple & Eve coupon because I will be able to take advantage of this following deal available at S&S:
Apple & Eve Fruitable 8ct juice packs $2
Use $0.75/1 Apple & Eve fruitables 46oz bottle or 8ct pack (IE) (FF Link) (can print twice)
Use $0.75/1 Apple & Eve Fruitable coupon (can print twice)
Pay $0.50 after doubled coupon!
Time to stock up up for the summer!  This sale is available through 4/29. Also, I was checking Frugal Living and Having Fun and it seems the Scrubbing Bubbles catalina is also going on at S&S. I confirmed this same info elsewhere.  So here is your deal:
Buy two Scrubbing Bubbles Extend a clean kits $7.99 each
Buy two Scrubbing Bubbles Extend a Clean refills $3.99 each
Use two $5/1 Scrubbing Bubbles Power Sprayer Starter or from 4/11/2010 SS Insert (exp 6/6/2010)
Use two B1G1 Free Scrubbing Bubbles Refill wyb Scrubbing Bubbles Power Sprayer
Pay $5.98 plus tax out of pocket and get $8 back in catalina coupons
These are the catalina coupons good on your next order you will get: two $3 off catalinas for every kit, two $1 catalina for every refill.  Other grocery chains are printing a bonus $4 when you buy four.  That $4 catalina promotion ends on 4/25.  If you do this deal and get this catalina consider it a bonus.  Don't forget that if you have not yet submitted for the $5/3 SC Johnson Rebate (exp 6/30/2010) (limit 3 rebates per household) you can do that as well.
Check Frugal living and Having Fun for the Stop & Shop deals for this week.