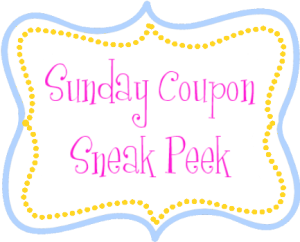 (Thanks to Sunday Coupon Preview for helping to provide this list! Remember, though, that this list also isn't set in stone, since coupons and inserts vary by region and paper. If you need more coupons, be sure to check out our coupon database! You can also print coupons from Coupons.com, Red Plum and Smartsource.)
This weekend you can expect up to three inserts in your paper – 1 P&G, 1 Red Plum, and 1 Smartsource. You can see the full coupon insert preview at Sunday Coupon Preview, but here's an ideas of what you should be able to expect:
P&G
$2 in Always coupons
BOGO FREE Clairol Nice 'n Easy
$4 in Covergirl coupons (Make sure you print all of the Covergirl coupons before they reset at the end of the month!)
$25 in Crest and Oral-B coupons
$3 in Febreeze coupons
$9.75 in Gillette coupons
B2G1 FREE Iams wet food
$8.75 in Olay coupons
BOGO Old Spice Body Spray coupons
$9 in Pantene coupons
$6 in Swiffer coupons (Including 3 BOGOs!)
$7 in Vidal Sassoon coupons
Red Plum
$3 in ACT coupons
$21 in Allegra coupons
$2 in Degree coupons
$4 in Dove coupons
$11 in Garnier coupons
$2.50 in Gold Bond coupons
$2 in Maybelline New York coupons
$6 in Nasacort Allergy coupons
$5 in Nature's Bounty coupons
$4 in Nivea Men coupons
Smartsource
$3.50 in Air Wick coupons
$3 in Biore coupons
$10 in Clairitin coupons
$4 in Dr. Scholl's coupons
$5 in Ensure coupons
$4.50 in Glucerna coupons
$6 in Jergens coupons
$8 in John Frieda coupons
Thanks again to Sunday Coupon Preview!