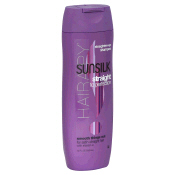 Oh! I just have to share this deal with you. I just read on AFC and HCW that Sunsilk 12oz bottles of shampoo and conditioner are on clearance for $1.09 each.  They are also part of the Unilever Register Reward Deal: buy 6, get $6 RR back.  I blogged earlier about the new Kmart coupon booklet.  There's a $2/2 any sunsilk hair product coupon in it.  Here's how this deal would play out.
$6.54 buy six sunsilk shampoo/conditioner bottles on clearance (make sure to price check if not tagged at your store)
-$6 when you use $2/2 coupon from Kmart coupon booklet
=Pay $0.54 plus tax out of pocket and get a $6 RR back!  Sweeeet!
Even if you don't have the Kmart booklet and use no coupons, you would be paying 54 cents for six bottles of shampoo after register reward. That's pretty good too. i know it's sort of short notice as the Register reward deals ends tomorrow. But hopefully you will be able to find the shampoo on clearance to get in on the deal and you will be able to find the Kmart coupon booklet to make it a great moneymaker.
Happy Deal hunting!