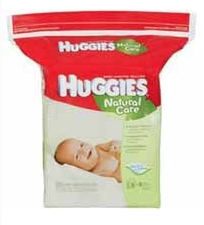 Don't miss out on this great deal on Huggies wipes at Walgreens this week. The refill packs are on sale for $5.99, but you can get them for a fraction of that price:
Huggies Wipes Refill Pack, $5.99
Use $2/1 Huggies Wipes Walgreens IVC
PLUS use $2/1 Huggies Diapers Big Pack or Wipes Walgreens Infant Care Booklet
PLUS use $0.50/1 Huggies Baby Wipes, exp. 8/13/11 (SS 07/17/11)
Pay $1.49 ea. after coupons
Just so you are aware, the Walgreens coupon policy clearly states that you can use more than one Walgreens coupon item.  Some of you may have problems finding the Walgreens Infant Care booklet in stores anymore.  It became available back in February, so it has been a while since then.