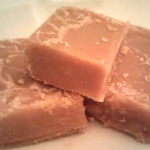 Peanut butter fudge is usually reserved for the holidays in my house, but hubby broke out his recipe box early earlier! I always love when the peanut butter fudge recipe comes out, because that means I can gorge myself on sinful, delicious, rich peanut butter fudge…
Yum.
I've always love peanut butter fudge, but I've never been very good at making fudge. So, I was pretty excited when hubby found a peanut butter fudge recipe that even I can make!
This recipe is truly super simple. We've made it in all different types of weather and even messed up a couple of times, and it still turns out great! This peanut butter fudge recipe can easily be doubled to make a larger batch. You can also add peanuts, Hershey kisses, or M&M's while your peanut butter fudge is cooling.
Okay, I'm done telling you how tasty and simply this peanut butter fudge is. Here's the recipe for you to find out yourself…
Super Easy Peanut Butter Fudge Recipe
Ingredients:
1½ cups white sugar
½ cup brown sugar
½ cup milk
1 cup peanut butter
1 teaspoon vanilla extract
Directions
1. Line an 8″x8″ cake pan with foil or wax paper and set aside. Leave at least an inch of foil or wax paper overlapping the rim of the pan.
2. Combine sugars and milk in a medium saucepan and bring to a boil, stirring constantly.
3. Let the sugar and milk mixture boil for exactly two and a half minutes while stirring constantly.
4. Remove from heat and stir in peanut butter and vanilla until smooth.
5. Pour mixture into prepared pan and let cool.
6. Pull on the excess foil or wax paper to remove the peanut butter fudge after it has set. Slice with a sharp knife into small squares.
I really have to warn you about this peanut butter fudge, though. It can be addicting, but I don't recommend gobbling more than a couple of pieces at a time. This stuff is packed with sugar, and super rich, so you could end up with a tummy ache…
You're welcome!
More Frugal Living Resources: