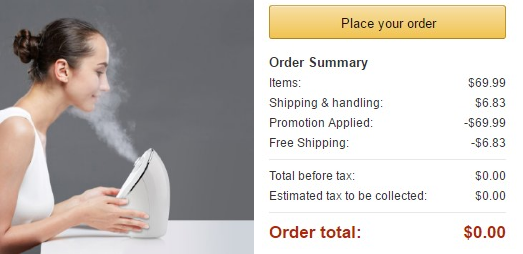 I'll be completely honest here and tell you that I'm NOT entirely sure exactly what this product does or if it even works, but I can tell you…
IT'S FREE! Completely FREE! It even includes FREE shipping!
The Spaire Facial Steamer Nano Ionic Sauna Moisturizer priced at $69.99 right now, but when you add it to your cart and proceed to checkout, the price drops to $0.00! And, did I mention the free shipping…?
Okay, so here's a little more about the product, for you curious sorts:
Special touch button design bring comfortable user experience. Ergonomic design with adjustable nozzle, upper and down 30 degrees for optimum user posture

ONLY use distilled water or purified water. DON'T mix water with any other substance, such as essential oil, milk, lotion, etc

Nana ionic facial sauna, ABS material. After special processing, no odor emitted. Water Tank with 90ML Maximum Capacity, enjoy up to 15 minutes sauna, deep hydrated all day

The indicator lamp begins to light up blue when steamer starts. The machine starts to work into the ionic mode with the sound produced by ion impact. The power button will light up red and convert to normal spray mode when press the touch button once again. Automatically shut down after 15 minutes from the start

Opens & unclogs pores: removes dirt, oil & makeup. No need to worry about water loss, moisture replenishment more effective. Clean hair follicles, detoxify your skin. Melts away dead skin cells, kills skin bacteria. Nano steam moisturizes and softens your skin to help loosen makeup, dirt and other impurities from your pores