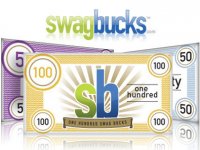 Swagbucks is offering new sign ups 40 additional Swagbucks when you use the code BackToSchool after you sign up for swagbucks. Add that to the 30 you get for just signing up and you get 70 bucks right off the bat.
Swagbucks is fighting the Back-To-School blues all this week with lots of fun promotions! First, you'll have the chance to win five different limited edition back-to-school themed Swag Bucks – if you snag them all, you'll earn a 50 Swag Buck bonus! Take advantage of sales in the Swag Store on all School Supplies and Cookie's Kids Merchandise, and more. Plus, they're having another Swag Code Extravaganza on Thursday, where you'll get at least 5 codes for extra bucks.
Swagbucks is a search engine that randomly rewards you with Swag bucks every time you use it. The more you use it the more chances you have to win these Swag bucks. Accumulate these bucks to get free stuff. For example, one $5 Amazon Gift card is worth 450 swag bucks. You get 30 swag bucks just for signing up. Once you are signed up download the toolbar to make sure you use Swagbucks every time you search the web.
Here is the best tip for racking up your Swagbucks: Like Common Sense with Money on Facebook. Thanks to some great readers I am able to share swagcodes on the CSWM Facebook page. I am unable to share those here since sometimes they are gone so fast, so if you are on Facebook, follow me for all of these free codes.