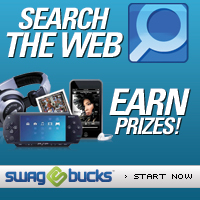 Are you Swaggin'? If you using Swag bucks as your search and win engine I have great news for you! Swagbucks will be offering a free swag code every day of this week on the toolbar. To take advantage of this freebie, make sure you have the toolbar downloaded. Then throughout the week check the envelope icon on your toolbar for alerts on the new code.
If you are not using Swagbucks this is a great time to start doing so. Swagbucks is a search engine that randomly rewards you with Swag bucks every time you use it. The more you use it the more chances you have to win these Swag bucks. Accumulate these bucks to get free stuff. For example, one $5 Amazon Gift card is worth 45 swag bucks. You get 3 swag bucks just for signing up. Sign up right now and at the end of the week you should have at least 8 swag bucks (three for signing up plus five from the toolbar). Add to that any you may randomly win for searching the web. Don't forget to take advantage of Mega Swagbucks on Friday when you may win double the swag bucks. Sign up now and download the toolbar to get the free codes alerts. Plus the toolbar also helps you in making sure you use Swagbucks every time you search the one (breaking the google may be hard for some, I know it was for me).
If you follow me on Twitter or Facebook I will give you updates when the free swag code becomes available.
Happy Swaggin'!