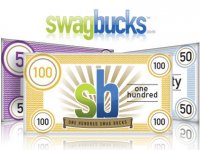 Do other members in your household want to earn Swagbucks? Now with the new policy, they can earn too! Swagbucks has announced that they will allow more than one account per household, instead of limiting the account to only one. Refer your spouse, children or anyone else so they can start earning points with their own account too!
If you are not a Swagbucks member you can sign up for Swagbucks here. Swagbucks is a search engine that allows you to earn points or "Swag Bucks". So how do you earn "Swag Bucks"? All you have to do is search on the Swagbucks search engine and at random searches you will earn points. Build your Swag Bucks to earn prizes, giftcards, and more.
One of the popular prizes you can redeem points for is the $5 Amazon gift card. It takes 450 Swag Bucks to get a $5 Amazon gift card.  It is normal to earn anywhere between 7-50 Swag Bucks for your searches. You can also earn Swag Bucks by taking polls, participating in special offers, and watching videos. When new members sign up they get 30 Swag Bucks!