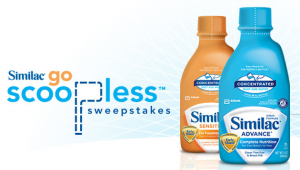 Similac Go Scoopless sweepstakes is back.  Enter to win a Free quart bottle of Similac Advance Concentrated Liquid or Similac Sensitive Concentrated Liquid.  There are 100 winners a day, 6,200 total!  One prize per person.  One entry per email address per day.  Sweepstakes ends 1/31/11.
Other sweepstakes available:
Wendy's Fry For All Giveaway: here's a fun Facebook "game" you can play on your Facebook wall with your friends.  Add a small box of french fries to your wall and have a chance for your friends (and you) to win free fries plus a shot at some bigger prizes like iPods, Flip Video Cameras, Nintendo Wii and more!  Giveaway ends 1/31/11.
Tyson Yogi Movie Ticket Giveaway: enter to win one of 2,000 Hollywood Movie Money movie ticket vouchers redeemable for one movie ticket at participating theaters.  Movie ticket does not have to be used on Yogi movie tickets.  You could also win a grand prize: a trip for 4 to Los Angeles, CA with 4 tickets to Warner Bros. Studio including air transportation, hotel accommodations and a WB VIP tour.  One entry per person and per household per day for Instant Win Prizes.  One entry per person and per household for the Grand Prize.  Giveaway ends 1/28/11.
Thanks, Sweeties Sweeps!