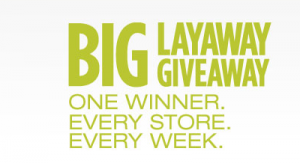 Kmart is giving away tons of  $500 gift cards in the Big Layaway Giveaway. There are two ways to enter: 1) Layaway online or instore or 2) by mail. To enter by mail handprint your name, address, day and evening phone numbers, email address, and date of birth on a  3″ x 5″ piece of paper and mail it in an envelope  to:
"The Big Layaway Giveaway"
Department: 589028
c/o the applicable Kmart store number
PO Box 5046
Kalamazoo, MI 49003-5046
Post mark days are as follows: Sept 17, Sept 24, Oct 1, Oct 8, Oct 15, Oct 22, Oct 29, Nov 5, Nov 12, Nov 19.  Entry limit is one per envelope or layaway.  Valid through 11/17/2012.  Read the full listing of details in the "Official Rules".
The 2012 McDonald's Monopoly Game is here again. Grab your codes from specially marked food items to play each day and win. Also, look for Free Codes online and by mail. Prizes include: 2013 FIAT 500 Sport Hatchback Vehicle, Beaches Resort trips,  cash, gift cards, and lots more.  There are two ways to enter 1) In store purchase or 2) by mail.  To receive codes by mail: request a Game Piece by mailing a legibly handwritten, self-addressed, stamped envelope with sufficient postage and a return address, including first and last name, street address, city, state, and ZIP or postal code to:
2012 MONOPOLY Game at McDonald's Game Piece Request
P.O. Box 49121
Strongsville, OH 44149-0121
All mail entries must be postmarked by October 22, 2012 to qualify.
Entry limit is ten codes per day online not including FREE Codes.  Here are two FREE Codes (can be used one time each per person): GOPLAYATMCD,  (free registration code), CODEFORMORE. The game is valid through 11/3/2012.  Read the full listing of details in the "Official Rules".
Thanks, Sweeties Sweeps!