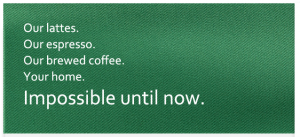 Starbucks is giving away Starbucks Verismo Systems by sharing on Pinterest your inspirations for what's possible now.  Here is how to snag yours
Pin the image of the Verismo™ System to a new Pinboard named "It's possible".
Add pins of other things that are now possible in your life. Pin at least five other items; add as many as you feel inspired to go with.
Register for the contest before October 8, 2012 – be sure to include a link to your new "It's Possible" Pinterest board.
Entry limit is one time per person.   Valid through 10/8/2012.
Enter the Dream It Do It to win a $2,500 Shaw Flooring gift card, area rug or Shaw Carpet Cleaner.  Entry limit is one entry per person.  Valid through 11/17/2012.
Thanks, Sweeties Sweeps!