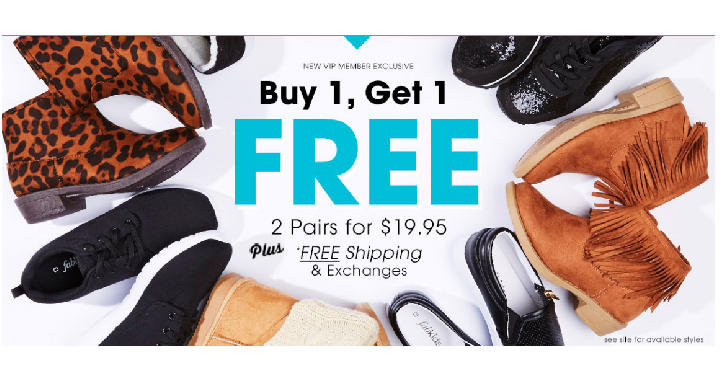 I love finding good deals on kids shoes. They grow so fast, I don't like to spend a ton on each pair of shoes that I buy. That's why when I saw Fabkids, I knew I had to try it out. When you sign up for their VIP Membership (it's free!) you will receive a FREE $10 Credit to use on your first purchase. Plus, you can use that credit on the sweet promotion they have going on right now of Buy 1, Get 1 FREE. These two offers together mean that you can snag some new stylish shoes/boots for the kiddos for as low as two pairs for $9.95! That's about $4.97 per pair, which is a pretty sweet deal.
Not ALL shoes will be this inexpensive, though, so pay attention to those prices! Choose two pairs of shoes that are priced at $19.95 each, and your total should be only $9.95 for both pairs after the BOGO sale and $10 credit. More expensive shoes will cost you more overall, but you can still get some great deals! For instance, two pairs of shoes priced at $24.95 each will cost you $14.95 for both pairs and two pairs pried at $29.95 each will cost you $19.95 for both pairs.
Once you become a Fabkids VIP member, you'll receive new styles handpicked just for your kid by our style team each month. Visit your FabShop by the 5th of the month to check out the styles for you. If you don't want to make a purchase, simply 'Skip The Month' by the 5th and you will not be charged. Skip as many months as you'd like, and you can cancel at any time.