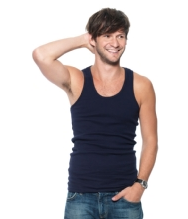 HOT! I just bought three tank shirts for my husband for only $2.50 from Swirl. This is a hot deal and they were selling out quick. To get on this deal just:
Login or sign up for a Swirl account
Visit the American Apparel sale for men
Choose three tank tops $7.50 each
Use code LUVSWIRL at checkout to get a $20 credit in your order plus you will get free shipping for ordering three items.
But if you are not interested on the tank tops you can also add some polo shirts for $16.00, add three and after the $20 credit you will get three for $28 or $9 each.  If you are not shopping for a guy, visit the women's American Apparel sale and get three rib tanks for $10 after credit and they also ship free because you bought three.