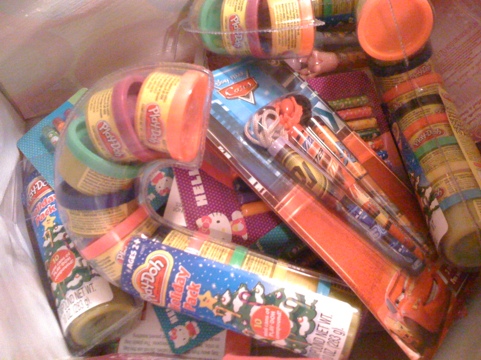 I just wanted to give you the heads up that some Target stores have already marked down their holiday items as much as 75% off.  I made a SUPER quick trip to my local store to use some coupons expiring tomorrow and found a TON of stuff.
The $1 Spot was pretty much still full and everything that was Holiday was only 25 cents.  I bought a few things for use as birthday party favors.  I found a lot of Hello Kitty, Disney princess and Cars pencils, pens, erasers, lip balms and more, everything 25 cents per item.
Back in the Holiday section I found the play-doh in the candy cane container.  What a score! $1.25 for a tube with 10 mini containers.  These are gonna be great for birthday favors or to pass around for Halloween.
My store still had a LOT of decorations.  I may have to go back because I just remembered my mom asked me to get her some things.  Oh well, maybe this time I will have more time to browse.  I had a Dr.'s appointment so I rushed through.
What kind of deals have you found?