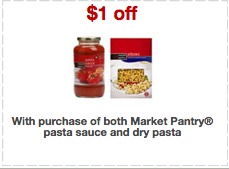 There are some great deals going on at Target this week. You can get some very cheap pasta and tomato:
Buy one Market Pantry Pasta 1lb $1 (thru 1/21)
Buy One Market Pantry Pasta Sauce $1
Use $1/2 Market Pantry Dry Pasta AND Sauce TARGET coupon
Pay $1 for both after coupons!
This price cut must have just started today because I did this deal yesterday and this is not what I paid (grrr).  But hey! Now I can go back and get more for even cheaper!  Check out more Target deals here.
Thanks Totally Target!