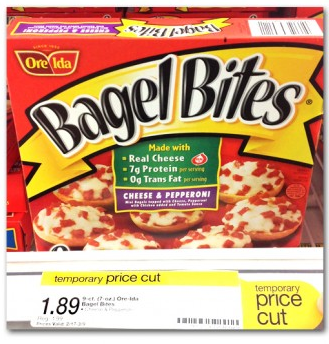 Don't miss out on printing this high value $2/3 Bagel Bites printable coupon currently available on the Target website.   This is a  Target store coupon you can use to grab the following deal:
Buy 3 Bagel Bites, 9 ct $1.89, price cut through 3/9
Use $2/3 TGI Friday's Frozen Snacks, 12 oz or larger OR Bagel Bites, 9 ct Target coupon
Pay $1.22 each when you buy three
Some great Target deals this week.  Catch up with them here.
Thanks KCL!