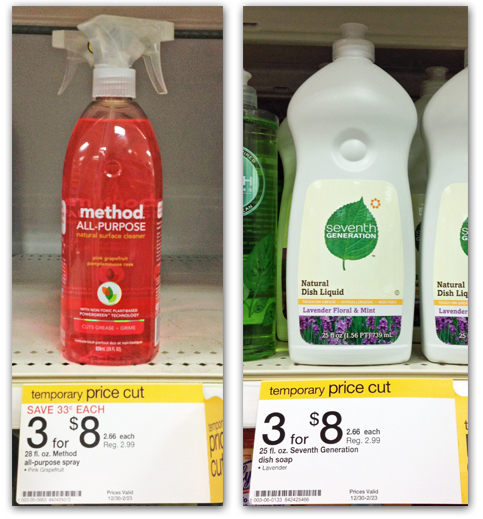 You can get a great deal on Method and Seventh Generation cleaners at Target thanks to a price cut in effect through 2/23.  The products are on sale 3/$8 and there are manufacturer and Target coupons to stack for greater savings:
Method Cleaning Spray, 28 oz $2.66 each, price cut through 2/23
Use $1.00/1 Method Cleaning Spray from SS 8/12 (exp 12/31)
PLUS use $1.00/1 Method Cleaner Target coupon
Pay $0.66 for one after coupon
Buy 2 Seventh Generation Natural Dish Liquid, 25 oz $2.66, price cut through 2/23
Use $2/2 Seventh Generation Home Care Products, Laundry, Household Cleaners, or Dishwashing OR
Use two $0.50/1 Seventh Generation Dish Product, Dish liquid, Dishwaher Powder or Gel
Pay $1.66 each after coupon
The price on the Method cleaning spray is stock up price!  Take advantage of these offers if you like these products.
Thanks Krazy Coupon LAdy!