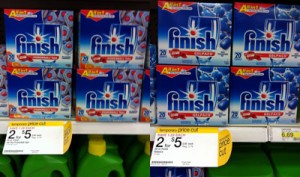 If you have been hanging on to your $2.25/1 Finish/Electrasol tabs coupon that came out in the 1/2 inserts, I have great news for you. Target has cut the price on those to just $2.50 per box. So, if you have the $2.25/1 coupon you get them for just 25 cents.  I believe there was also a $1/1 value coupon in the same insert.  $1.50 per box is not too shabby either.  This price cut is available through 3/12 but the coupon expires before that.  Thanks Krazy Coupon Lady!
You can also pick up the following deal on this DVD:
There is Something about Mary DVD $5
Use $3/1 There's Something AAbout Mary DVD coupon
Pay $2 each after coupon  (Thanks, Totally Target)
Keep up with more Target Deals here.