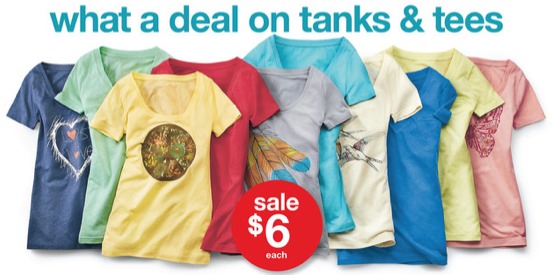 Just a reminder that these deals are available at Target this week.  I actually went this morning to pick these up.  Just a heads up that the $3/1 Mossimo apparel Target coupon beeped for me, but it was overridden by the cashier.
Mossimo Scoop-Neck or V-neck Pocket Tee $6
Use $3/1 Mossimo Apparel Item, excludes Intimates, Jewelry, Accessories, Shoes, TARGET coupon Target.com (exp 05/19/2012)
Pay $3 each after coupon
Honest Kids Organic Juice 8 pk. $2.99
Use $1/1 Honest Kids Organic Juice Target printable
Pay $1.99 after coupon
Dixie Napkins 180 ct, Plastic Cups 32 ct, Bowls or Plates 35 ct $2.00
Use $1.50/2 Dixie or Vanity Fair Napkins, Plates, Bowls or Cups, TARGET coupon Target.com (exp 05/12/2012)
Pay $1.25 each when you buy two after coupon
Also the Dixie paper products that are advertised for $2 are by the seasonal section not with the rest of the paper products.  This was at my store but just in case the same thing is going on at yours.  Check out other nice Target deals here.