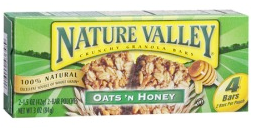 You can get free 4ct boxes of Nature Valley Granola bars with the following deals and coupons:
Nature Valley Granola Bars 4ct $1 (look in the $1 Spot)
Use $0.50/1 Nature Valley Granola Bars or $0.50/1 here
PLUS use $1.50/3 Nature Valley Granola Bars Target Coupon
FREE after coupons
If you prefer Special K bars you could do:
Kellogg's Special K Bars, $2.50
Use $3/5 Kellogg's Special K Products
Use $2/3 Kellogg's Special K Products
Use $1/2 Kellogg's Special K Products
PLUS use $1/2 Kellogg's Special K Crackers, Cereal, Shakes or Multipack Bars Target Coupon
Pay $1.50 ea. after coupons
Also, lots of people are reporting Halo Sleepsacks on clearance for 50% off and as low as $9.98. Use this new $2/1 Halo Sleepsack coupon to pay only $7.98 for one. if your store has many of them you may even consider holding on to the coupon to see if they get marked down further.
Thanks, Totally Target and Passion for Savings!