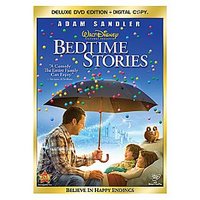 This is what I think the best deal at Target this week.  how would you like to get cheap Easter basket videos?  OK, here's the deal:
Disney bedtime stories DVD is on sale this week for $16.99
Use this $5 off printable coupon
Pay $11.99 plus tax out of pocket  then submit for the following rebates:
Submit for $5.00 Ortega/Bedtime Stories Rebate
Submit for $5.00 Rayovac/Disney Rebate (Can submit copy of receipt for this rebate, read fine print)
It's like paying only $1.99 for a $16.99 DVD!
If you really liked this cheap DVD deal, please stop by Cheaper by the Dozen and Get One Free for other cheap DVD deals after Taret Gift cards and rebates.
Also, you can get free Vitamin Water at Target with the coupon from this past Sunday's insert.  Vitamin water is on sale for $1 each at Target.  Use your coupon to get it free, no beeps at the register yay!  So far you can get it free at Walmart and with overage at Walgreens.  Hopefully you have at least one of these stores in your area.
Finally, you may want to leave a comment thanking reader Heather.  She found a Target coupon for $1 off any All Small and Mighty on the Red Plum website.  If your printed the $2 off any coupon I shared yesterday (sorry only a $1 off one printing now) then you can get each bottle for $0.99.  The regular price at Target for this detergent is $3.99.  Thanks Heather!
Don't forget to stop by Stretching a Buck for the rest of the Target Weekly deals.