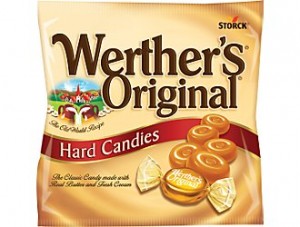 There are some new deals at Target I want to share with you this morning.  I love the Werther's candy deal. It's my mom's favorite candy:
Werther's bagged candy $1
Use $1/1 Werther's Original Caramel Chocolates 5/9/2010 SS Insert (exp 8/31/2010) (some areas got $1/2)
FREE after coupon
Kraft Parmesan, Romano, & Asiago Grated Cheese, $2
Use $1/1 peelie coupon found on packages
Pay $1 each after coupon
Welch's Juice $2.89
Use $1/1 Welch's 100% Juice, 64 oz (Facebook)
Pay $1.89 after coupon
Earth Best baby cereal $2.14
Use $0.55/1 Earths Best Organic Infant Cereal
Pay $1.59 each after coupon
Thanks Hooked on Bargains and Give me neither for these deals. Catch up with more Target deals here.