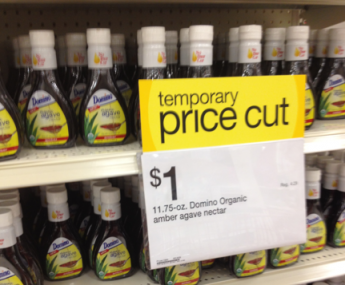 If you're headed to Target be sure to add Domino Organic Agave to your list to check out.  Some have reported the 11.75 oz. bottles on a Temporary Price Cut for just $1 each. Now these price cuts can be regional so this may not be everywhere but it's worth a look.To make  it even better you can print out this coupon to grab some for as low as FREE.    Here's the details:
Domino Organic Amber Agave Nectar 11.75 oz – $1.00 (Price Cut thru 9/29) Regional?
Use $1/1 Agave printable coupon or Here
Use $0.55/1 Domino Organic Light or Amber Agave Nectar from RP 9/16 (exp 11/30)
As low as FREE after coupon
Check out all the best Target deals here.
Thanks H2S (photo credit Monique)