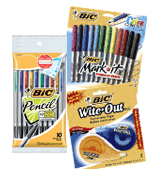 I know what you are thinking: "What?  the kids just started their summer break and we are already thinking back to school?"  I know! but that's the name of the game. Retailers want you spending money on BTS items ASAP.  But if you are an early shopper and love getting stuff dirt cheap, here are some deals available at Target right now:
Papermate Eagle Pens 10 ct Package $0.99 – $1.02 (Regular Price)
Papermate Profile 2 ct Pen Pack $1.39 – $1.44 (Regular Price)
Use $1/1 Papermate Writing Utensil Item Target coupon
As low as FREE for the 10 ct Eagle Pens

Bic Crystal Easy Glide 10 ct Pens $0.99 – $1.02 (Regular Price)
Use $1/2 Bic Writing Utensil Items Target Coupon
Pay as low as 49 cents for the 10 ct Eagle Pens
Sharpie Super Twin Tip Permanent Marker 1 ct Package $1.84
Use $1/1 Sharpie Permanent Marker Item Target coupon
Pay 84 cents each after a coupon
Scotch Magic Tape in Gem Colored Transparent Dispensers $1.79 (Regular Price)
Use $0.50/1 Scotch Magic Tape Item Target coupon
PLUS use $1/1 Scotch Magic Tape coupon
Pay 29 cents each aftercoupon
Wet Ones 15 ct Sensitive Skin Travel Size Wipes $0.97 (Regular Price)
Use $0.50/1 Wet Ones Moist Wipes 15- to 40-ct. Target coupon
Pay 47 cents each after coupon
My advice is to hold out on the BIC Crystal Pen deal.  there is usually a manufacturer coupon around this period. to go along with that coupon.  But I would print the Target coupon because we just never know how long those Target coupons will be available.
Thanks, Totally Target!