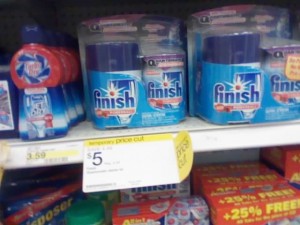 Here is a good deal on this new product by the brand Finish.  The Finish Quantumatic system is on temporary price cut at Target and selling for only $5.  Some of you got lucky and got a coupon in your 4/11 SS inserts for $5 off one of these systems.  If you are one of these people you can get this product for free after coupon.  The rest of us can use this printable coupon for $3 off one Finish Quantumatic to pay only $2.  There is also a coupon booklet mailed by Target to some of you that has a coupon for $1/1.  If you got this coupon you could end up getting this product for better than free or pay $1 for one.
Thanks Lisette for sharing this awesome deal.  She also shares that she found a Kodak digital camera that regularly retails for $129.99 on clearance for only $50.  If that wasn't cheap enough for you, she also used this $10/1 Kodak camera Target printable coupon to end up paying only $40.  Good deal hunting Lisette!
Has anyone tried these already? did you like it?  I think the package says it's only good for 12 uses?  That's not too many.