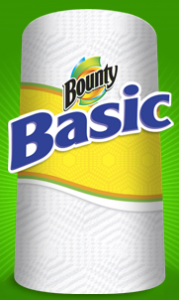 I forgot to mention this deal in my Target deals post and it's a deal I just love.  This deal has come around around this time for the past two years.  I have used this deal to stock up on the paper towels my husband likes.  Anyways, some areas of the country got a Target store coupon in their 5/16 inserts for $1/1 any Bounty paper towels.  Here is how to get better than free paper towels:
Bounty Basic single rolls $0.99 every day
Use $0.25 off one Bounty from 5/2 P&G insert (hand this one first)
Use $1/1 any Bounty Target coupon from 5/16 insert
Free plus $0.26 in overage!
I love this deal!  I wish there was a deal for free Charmin and then I would be set.  Thanks Jessica at This frugal Life for emailing this deal for a chance to win.