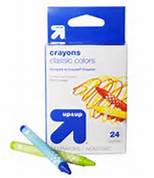 If you are signed up to get Target mobile coupons, check the new offers you received yesterday.  You will find one for $1 off four Up&Up  school supplies.  Looks for the 24ct crayon boxes which sell for 25 cents right now.  Get four for free.  Other items you may want to check too are rulers and glue.
There was also a coupon for $2 off a bed pillow.  Some of the Room Essentials pillows sell for as little as $2.50.  You could get one for 50 cents.
To get these Mobile coupons text the word OFFERS to the number 827438.
Thanks Dealicious Mom!