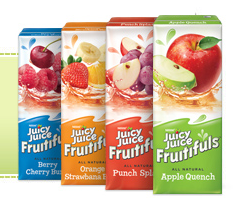 This is one thing I always make sure I stock up on when I find a deal because we go through them so fast between home lunch, soccer game treats and picnics at the park during summer! Right now at Target you can get Juicy Juice 8 pack Juice Boxes for only $.88 each! Here's how:
Purchase 3 Juicy Juice 8-Pack boxes for $2.49
Use the 25% off Juicy Juice Cartwheel offer
Plus use 2 of the $.55/1 Juicy Juice product coupon from the 1/8 SS
Total cost $2.63 total or just $.88 each!
You can also use this coupon to get 25% off their 64oz bottles if you're family enjoys those more. I just tend to like the grab and go option more.