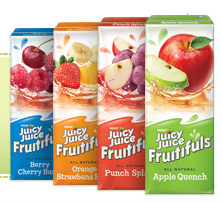 Here is an offer that you may want to check for if you are shopping at Target this week. There seems to buy an unadvertised Special Buy offer available on Juicy Juice Fruitfuls: buy two get one free. Combine this offer with the following coupons to get the following deal:
Buy 3 Juicy Juice Fruitifuls, 8 pk $2.49
Use two $1/1 Nestle Juicy Juice Fruitifuls Juice Beverage, 6.75 oz, 8 pk
Pay $2.98 for three packs after coupons and sale
Great discount for a lunch bag addition! These juices come in the following flavors: Apple Quench, Berry Cherry, Burst Orange, Strawbana Blast and Punch Splash.
This is an unadvertised offer and it may also be available in certain areas. Check out other Target deals here.
Thanks Totally Target!