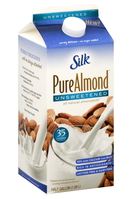 Just wanted to remind you that hrough 6/15 Target has Silk Almond Milk for just $3 per half gallon.  Plus there is a store and manufacturer coupons to stack to get this very cheap:
Silk Almond Milk 64 oz. $3.00
Use  $1.00 on any Silk Pure Almond® Half Gallon (If you don't see the coupon under your zipcode, first click here and change it to 33031)
PLUS Use $1 off Select 1/2-gal. or larger Silk beverage items – Target Store Coupon
Pay $1.00 after coupons

What a great price to get this! I picked a couple just yesterday!  Check out other Target deals here.
Thanks Totally Target!