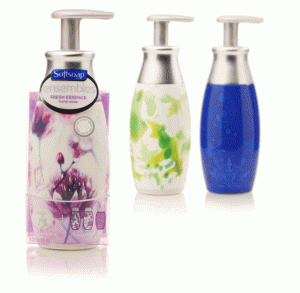 Now through July 13th there's an unadvertised Gift Card deal going on at Target on Sofsoap Ensembles and other Colgate Palmolive Products.  The details are these:
Buy 2 Irish Spring or Softsoap Value Packs and get a $5 GC. Valid from 05/19-07/13. Each item is priced at $6. It includes the following:
Softsoap Ensembles Base
2 pack of the Ensembles Refill
2 pack Irish Spring Bodywash
2 pack Softsoap Bodywash
With the right coupons your transaction would look like this:
$12 when you buy two Softsoap Ensembles starter Kit
-$4 two $2/1 manufacturer coupons: $2/1 printable coupon, $2/1 from CVS Reinventing Beauty Mag (with Jennifer Aniston on the Cover) or $1/1 from June All You Mag
-$4 two $2/1 target coupons: $2/1 printable coupon or $2/1 from 5/31 Sunday inserts.
= Pay as low as $4 plus tax out of pocket and get a $5 Target Gift Card back!
If your store doesn't have this gift card deal tagged, there's an easy way to confirm on your own at stores.  All you need to do is scan the items on the price scanners located throughout the stores.  When you do so, in addition to the price you will see a special notice detailing that this item qualifies for a gift card deal.
There's also another gift card deal going on this week on Weight Watchers Smart One meals.  They are prices at $1.80.  Buy 10 and get a $5 gift card back.  Use this $4 off when you buy ten printable coupon and it will be like paying 90 cents each after coupon and gift card.
Just a note that the Smart Ones used to be $1 each at Walmart about 4 weeks ago and after coupon they would have been cheaper there.  But I checked my local Walmart yesterday and they were priced at $2 each.  So this Target deal is a better deal.
Stop by Stretching a Buck Blog to check out the rest of the Weekly Target deals.