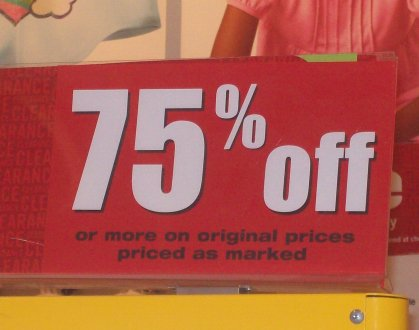 It's that time of the year!  Oh you don't know what time I mean?  The time for Target ot clearance some of its toy stock to make way for their new ones.  Of course, I am only talking from past experience, as I am NOT a Target employee.  But old timers ;-), I mean seasoned readers of this blog know that the time is coming and from the emails I have been getting you guys are getting ready for it.
So what's the deal?  for the past two years Target has marked down some of their toy stock to 75% off.  Past experience has taught me that this happens the last Thursday of July.  Based on this, I would expect this to happen July 29th.  BUT, if I were a smart shopper, I would definitely visit my Target next Thursday as well.  And I totally expect your emails letting me know when it does start.  I know a lot of you carry smart phones 🙂
Just wanted to share that with you, because I know it's helpful info for new and old readers.  But like I said this is all based on previous experience and as far as I am know Target may decide to not do the same this year.  But it's worth being in the look out.  I have gotten some awesome deals over the past two years to stock the toy closet.
I know some of you are already seeing up to 50% off, what % off have you found at your store?