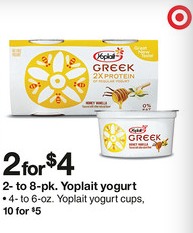 There are some HOT deals on Yoplait yogurt at Target this week.  Through 6/9 get select 2-8 packs on sale for $2 each.  But there are Target and manufacturer printable coupons to stack to get the following deals:
Yoplait light with granola 2pk $2
Use 75¢ 2-pk. Yoplait Light with Granola yogurt
PLUS $0.75 off Yoplait Light granola yogurt
Pay 50 cents for a pack after coupons
Yoplait kids Simply Go Gurt 8pk $2
Use 75¢ off With purchase of two 8-pk. Yoplait Simply Go-Gurt yogurt snacks
PLUS use $0.75 off 2 Yoplait kid yogurts
Pay $1.25 for each 8ct pack when you buy two
We freeze these go-gurts for our kids and give it to them when they ask for a popsicle! they love them!  Can't beat these yogurt prices!
Check out other Target deals here.