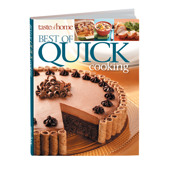 Here's a gift idea for those on your gift list that love to cook (or maybe need some guidance *wink*).  Taste of Home has 20 of their cookbooks on sale for $5 only.  These books usually sell for $24.90 so this is a good value.  If you spend $20 or more in your order you can get free shipping when you use the code LST02 at checkout.
But wait!  it gets even better.  If you go through ShopAtHome you can get 10% cash back!  Plus if you are new to ShopAtHome you get the $5 sign on bonus.  If you are more of an Ebates person, go through Ebates to get 5% cash back.  Ebates also offers $5 sign on bonus.
If you go through Ebates or ShopAtHome, just search for Taste of Home and you will find the link to the store.  Then when you are in the Taste of Home website, click on "Cookbooks" and sort them by price (low to high) and you will see all of the $5 cookbooks in one place.
Thanks KC Penny Pinching Mama!