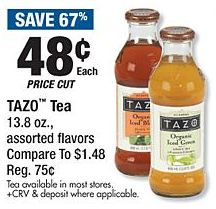 I just wanted to let you know that this week through 6/23 you can grab Tazo Tea 13.8 oz bottles for just 48¢ at Big Lots – No Coupons Required.  This item is on price cut and may not be available in all stores so double check before you make a special trip.
If you don't have a Big Lots near you be sure to price match at Walmart or other retailers that allow price matching!  Check out the ad online here.
Thanks Growing Up Natural!