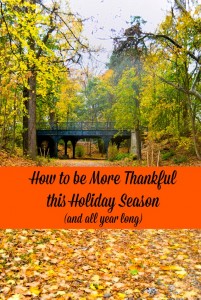 The holidays are nearing and I don't know about you, but they always offer a great reminder of the need to be thankful.  Most of us though, really want to be thankful all year long.  If you are an avid reader, you have likely heard the Ralph Waldo Emerson quote the benefits of giving thanks.  The fact is that feeling thankful often results in a happier, more fulfilled life.
Here are some tips on how you can be more thankful this holiday season:
Keep a Journal
If you spend time writing in a journal and writing down some of the things in your day, you are far more likely to remember the good things and be happier about them.  Oftentimes, when bad things happen, it is easier to keep them stuck in your mind.  Putting your day on paper is a good way to remind yourself of the reasons that you have to be thankful.
Spend time with Family and Friends
A job is important for supporting your family, but don't work so much that you neglect them.  Spending more time with your family is a wonderful way to spend your extra time and you will feel very thankful to have them in your life.  
Focus on the Good
With all of the negative news, it is easy to get wrapped up and focus on the negative parts of life.  This is not the ideal way to live your life.  Turn off social media and the news for a bit and enjoy a negatively free existence if only for a little while.  When you are not constantly blasted by bad things, you are more likely to notice the good.